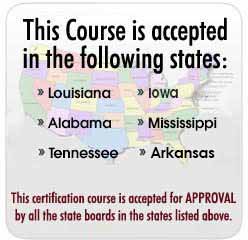 Many security professionals throughout United States are required to take an Advanced Burglar Alarm Technician certification course in order to fulfill their State requirements. This certification course is typically available only through a traditional classroom setting for two days at a time. There is also a huge delay in the delivery of testing results of up to several weeks. This creates a huge problem for the majority of licensees due to logistical, monetary reasons, and time constraints. Because of this fact, many security professionals are not in compliance with the Board rules, and are not properly trained. This can lead to unnecessary fines and liability issues for all licensed companies.
The Solution:
Elite CEU has designed and implemented a cost-effective online program which has been successfully implemented in several States throughout the country. It has proven to be a great help to many companies within these states by providing a convenient and educational platform. Since the entire curriculum is offered through a web-based platform this allows everyone access to the courses anytime and anywhere. Now, all licensees will now have the opportunity to meet their mandatory requirements in a more timely and economical fashion.
This two-day (16-hour classroom equivalent, plus final exam) certification course, entitled Advanced Electronic Intrusion Technican (AEIT), is designed to build on basic security skills and knowledge, such as that covered in our Alarm Level One (AL1) series, in order to provide advanced training equivalent to Alarm Level Two. This certification is often used in conjunction with the FAIT for Qualifying Agents and advanced Security Technician licenses The main focus of this series is to educate and train intermediate and advanced technicians, salespeople, and managers in the security and alarm industries. All course material and data will be presented in a clear and accessible manner. Each course will utilize periodic interactions and knowledge checks to engage learners and help them retain knowledge gained. Content will focus on extended coverage and detail to provide an in-depth education in the information, skills, and techniques needed for professional alarm and security technicians, salespeople, and managers.
Current Curriculum:
The following topics and MANY MORE will be discussed in detail for the purpose of fulfilling the Advanced Electronic Intrusion Technician (Alarm Level 2) educational requirements.
Electric Current Types, Generating Alternating Current, AC Equations, Light Emitting Diodes, Converting AC to DC, Filtering Capacitors, Proportions, Inductance, Voltage drop and wire size problem solving, Ohm's Law Pie Chart, An Advanced Perspective of Residential Application and Layout, Available Technology Options, Techniques, and Appropriate Selections, Common Home Automation Applications That are Now Part of the Home Security Landscape, Interior and Exterior System Layout, Advanced Perspective of Commercial Application and Layout, An Expert Approach to Commercial Interior, Building Perimeter Detection Applications, Building Interior Detection, Output Device Proficiency, Local Notification, Output Devices, Categories of Power, Troubleshooting Primary Power on the Panel, Secondary Power, Batteries, Charging Circuit, Determining Alarm System Current Requirements Battery Calculation Examples. NFPA Requirements for Battery Calculations, Calculating Amp Hours Contingency, Safety-Related Work Practices, Safety-Related Maintenance Requirements, Safety Requirements for Special Equipment, Control Panel Detection, Surges and Spikes, Understanding Programing Concepts and How They Apply to Security Systems, Programmable, Control Panel Functions, Programmable External Resources, New Security System Capabilities and How They Affect Programming Requirements, Future-Proofing Your Career/Keeping Pace with Programming Requirements, Networking Terms, Wiring Limitations, Understanding the OSI Model, Tools to Help Work and Troubleshot Networks, Burglar Alarm System Troubleshooting, Professional Customer Service for Alarm Technicians
---
Online Certification Course Layout:

All approved courses, curriculum, & quizzing will be offered through a self-paced web based training platform.  The Certification Test (i.e. final exam) will be a two-hour proctored final exam with a nationally recognized testing company.
Each group of topics will be divided into 14 titled and clearly identified modules for a total of 16 hours.

  NOTE: Course modules will be delivered through SCORM standard LMS (Learning Management System) compliant software.

All online course modules are self-paced and can be logged off and on at anytime to where they left off.

After each module section is completed a mandatory quiz of ten questions will be given, on which learners must score of 70% or better in order to pass and receive course credit.
Final Exam:
Most Final Exams are taken ONLINE with national testing company, Proctor Exams.  Upon completion of your Certification Course, you will be directed upon the method of how to complete your proctored final exam.
Please verify that you can meet system requirements to complete the final exam.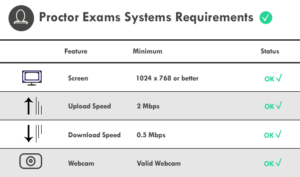 After all module sections have been completed, use the automatic single sign-on button to access your Exam via Proctor Exams. This access will appear only after all applicable coursework has been completed.

A picture ID is needed in order to take the proctored two hour final exam.

Using your Elite CEU login you will complete the proctored 100 question final exam.

Once the final exam is passed with a 70% or better, and the Exam Verification has been completed,  Elite CEU will be notified and a Certificate of Completion will be processed and sent directly to the student within 2 business days of Exam Verification.   

We will also send a copy of the certificate to the appropriate governing security board (if required).

NOTE: If a student fails to pass the exam, they can immediately retake the online proctored final exam and will pay a $55 retesting fee to Proctor Exams. To purchase an exam at a later date, use your Elite CEU login to to access your single sign-on for purchasing

.
ELITE BULK PRICING
If you need multiple Certifications for a larger number of students/employees, please see our Bulk Pricing below!  This reduction is based on groupings related to the number of students being enrolled at one time. Discounts are received via our Bulk Registration or Bulk Enrollment features.
| | |
| --- | --- |
| Number of Certifications | Price per Certification |
| 1 – 9 | $299 |
| 10 – 30 | $289 |
| 31 – 50 | $279 |
| 51+ | $269 |